[2019-08-19] at the 9th edition of MEDICAL FAIR THAILAND on 11-13 Sept 2019! C26
WELCOME TO MEDICAL FAIR THAILAND 2019
Join us at the 9th edition of MEDICAL FAIR THAILAND on 11-13 Sept 2019!
THAILAND'S NO.1 EVENT FOR THE MEDICAL AND HEALTH CARE INDUSTRY
MEDICAL FAIR THAILAND by Messe Düsseldorf Asia (MDA), with a well-established history since 2003, continues to grow from strength to strength as Southeast Asia's BIGGEST, most INTERNATIONAL exhibition for the medical and healthcare industry. Focused on equipment and supplies for the hospital, diagnostic, pharmaceutical, medical and rehabilitation sectors, MEDICAL FAIR THAILAND provides you with the best business opportunities to navigate the dynamic marketplace of Thailand and Southeast Asia.
Supported by some of Thailand and the region's most prominent government and industry trade associations, including Thailand's Ministry of Public Health, and many others, MEDICAL FAIR THAILAND is the ideal platform for your business.
MEDICAL FAIR THAILAND – modelled after MEDICAL FAIR ASIA – is part of the globally recognised MEDICAlliance network of trade fairs under the Messe Düsseldorf group.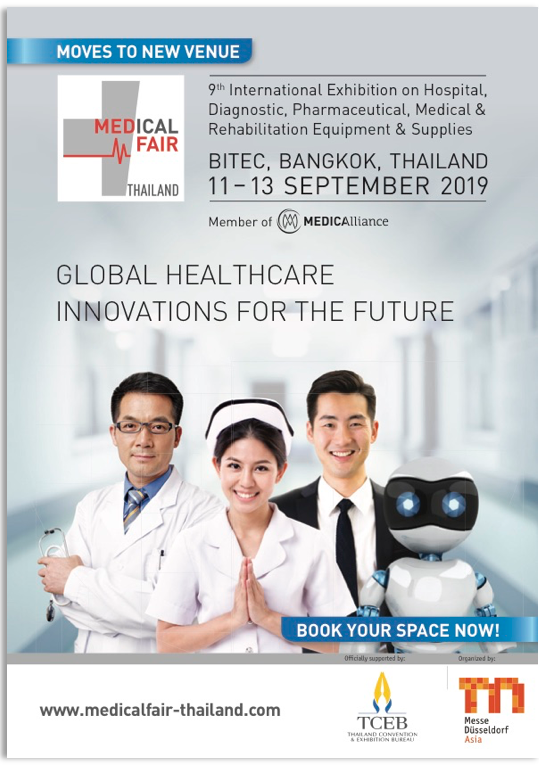 NEW HIGHLIGHTS IN 2019
Community Care Pavilion
The first-ever Community Care Pavilion at the exhibition, will showcase new technologies and innovations in the areas of remote healthcare monitoring, geriatrics, rehabilitation products, and assistive devices. With the ageing population in Southeast Asia expected to make up 15 per cent of its total population by 2035 , the innovations in this pavilion will not only address the shifting needs of the market, but also provide patients and end users with targeted and useful products and solutions to enhance and enable a sustainable quality of life.

Start-Up Park
A dedicated platform for new and innovative companies to present the latest technologies to potential buyers and investors. With a start-up ecosystem in Southeast Asia estimated to be valued at US$13 billion , this represents the region's openness to new ideas and innovative new companies. At the debuting Start-Up Park, medical and healthcare start-up companies with innovations in IoT, from big data, wearable technologies to the latest software, will be able to pitch their technologies and solutions through onsite presentations during the exhibition.